SIX killer reasons to outsource your MVP (Minimum Viable Product)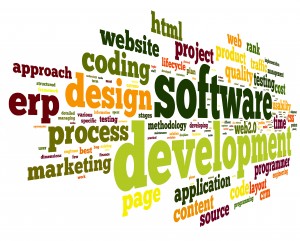 You may well have sweated blood planning and designing your product to get it to the level where it's prime for development. Or perhaps you've got a killer idea but have no idea how to take it to the next level.
Well…if you're not a developer, and/or are struggling to find the development power to implement your awesome idea/product and take it to the MVP level, those dreams of startup superstardom are going to vanish into thin air rather quicker than you ever dreamed possible…
The goal is, of course, to have some kind of core functionality available for your users to actually work with so they can ascertain whether or not your solution can remedy their problem. And when you take a long hard look, it basically means you're left with the following two options if you want your MVP to be more than a hotchpotch of barely working code:
Find a partner to take on the technical side and/or development.
Hire a team of expert product developers to speedily move your development to the next level.
If you're going to go down Partnership Street, you should really do your research and weigh up the pros and cons of just what you're getting into – there's a lot to consider…
Which takes us on nicely to the reasons for outsourcing a team of expert developers…
Without question, the decision to outsource is a biggie, and finding the right team to carry your product forward is critical (and of course, no easy task in itself). But the following SIX reasons may just be enough to convince you that taking on an external team is perfect for you and your MVP…
When you work with an outsourcing team skilled in MVP development, you're getting a team who knows what you need and how to do it in the most effective manner. Think of them as a one-stop shop for your MVP needs, including Product definition / MVP definition, UX/UI design, development, and deployment. They'll relieve you of countless days exploring the technology / programing language best suited for your needs; by harnessing their proven experience with other startups, they might even come up with some technical alternatives you'd never have thought of…
Because most startups fail at the execution phase, a good outsourcing partner will help you avoid the pitfalls on the road to your MVP, and have your MVP market-ready ASAP. They should also be able to provide you with a second opinion about your product, to help you refine your idea along the way, if needed.
Once you've hired your outsourcing team you don't have to go through the headache of hiring the relevant employees, or worry about retaining them or the individuals that work on your project. You'll often find (and we've often experienced this at Galil Software) that good developers prefer well-established teams where they can work on multiple projects to diversify their technological experience, without the inherent risks that come with joining a startup.
If your budget is limited, you'll find that you are way more productive when hiring an outsourced team. For example, if you have a budget of $100k, you could probably get as much as 4x the amount of work done than if you had invested that same $100k in your own team. The additional taxes, pension payments, office and logistic expenses of hiring employees are well-known; taking on an outsourced team eliminates this extra expense, at least from your end. When saving costs and adhering to a tight budget (and even needing to know your expenses upfront) are the name of the game, hiring an experienced outsourcing team is the perfect solution.
Once you start generating revenue or are trying to raise VC funding, you can reduce or end your arrangement with the outsourcing team, as you'll probably want to start hiring developers in-house (VCs are particularly keen on seeing in-house teams). Naturally, when the need for outsourcing arises (for example, when you need to scale-up) you can always re-hire from the outsourcing company you worked with; and if the relationship was a successful one, there's no need for the trials and tribulations of hunting down a new outsourcing partner…
Hiring a competent and skilled outsource team frees up so much of your time. Time which you would have wasted on learning code and finding and hiring developers can now be used to make critical strategic decisions for your product…
If you're interested in hiring an excellent team of developers specializing in helping startups get off the ground, get in touch with us at Galil Software!